About Us
HospiSource is an online platform specifically designed for the Hospitality Industry
It was started in an aim to connect the buyers from Restaurants /Hotels/Caterers/ IT&ITES Cafeterias /Factories with the suppliers/ seller ie., OEM (Original Equipment Manufacturers), Distributors, Importers and the Operational Suppliers.
This would help in reduction of time taken to find the suppliers both for FF&E (Furniture, Fixtures & Equipment), OS&E (Operating Supplies & Equipment).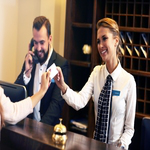 The subscription model is free for the buyer but the supplier/Seller will be required to pay an on-boarding fee & annual subscription fee.
The seller will also be rated by the buyer on parameters such as ease of doing business /prompt response/ lead time /proper packaging / delivery within said time frame etc.,
We initially would not support online transactions but should there be a demand to do so, we will consider adding the module on our platform.